Edit Shape Paths in CSS¶
The Shape Path Editor is a tool that helps you see and edit shapes created using clip-path and also the CSS shape-outside property and <basic-shape> values. This guide walks you through all of the available options.
Activate / deactivate the Shape Path Editor¶
The Shape Path Editor is accessed via the CSS Rules Panel, which can be opened as described in the guide to Opening the Inspector. Once you have selected your element, you should see the shape icon alongside any valid value, e.g. one for shape-outside.
Clicking the icon will cause the Editor to highlight the shape.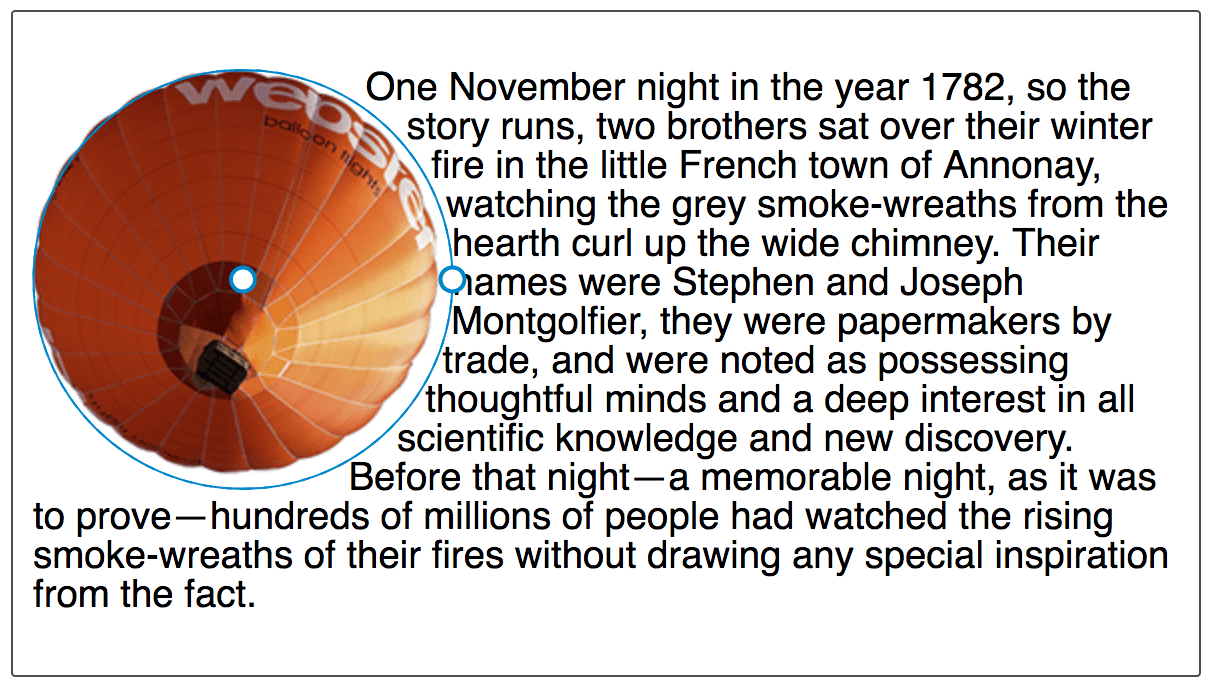 To deactivate the Shape Path Editor click on the icon again, or select another element or a different editor. Note that the Shape Path Editor does not persist between page reloads — if you reload your page you will need to select the element again.
Understanding the lines drawn by the editor¶
Once you have selected a shape on your page, the Shape Path Editor will draw lines to help you understand the path that is being created.
A solid line shows the outline of the shape that is wrapping the text. This is your shape. If the shape is clipped by the margin box then the margin box will make up part of this line.

A dashed line demonstrates the outline of the shape which extends past the margin box reference; this is the area that will be clipped by the margin box. To understand the margin box, and other boxes used by CSS Shapes see our guide to Shapes from box values.
Editing Basic Shapes¶
The options given to you by the tool will differ depending on the type of basic shape that you are editing. Options can be accessed by activating the Shape Path Editor with a regular click on the icon, and you can use the context menu (Ctrl/Cmd + click) to access additional functionality.
Browser support¶
The Shape Path Editor currently works for shapes generated via clip-path; it will also work for shapes generated via shape-outside as of Firefox 62.